Transmission Corridors Work Group
Summary
Mandated by Section 25 of the Clean Energy Transformation Act (CETA) of 2019, this 20-member body will meet for six separate day-long meetings running from September 2021 until June of 2022. The work group is expected to report its findings back to the Governor and legislature in a final report due by Dec. 31, 2022.
The Transmission Corridors Work Group was formed to:
Review the need for upgraded and new electricity transmission and distribution facilities to improve reliability, relieve congestion, and enhance the capability of the transmission and distribution facilities in the state to deliver electricity from electric generation, non-emitting electric generation, or renewable resources to retail electric load.
Identify areas where transmission and distribution facilities may need to be enhanced or constructed.
Identify environmental review options that may be required to complete the designation of such corridors and recommend ways to expedite review of transmission projects without compromising required environmental protection.
A list of meeting dates/times and zoom/call-in info can be found here
See timeline below: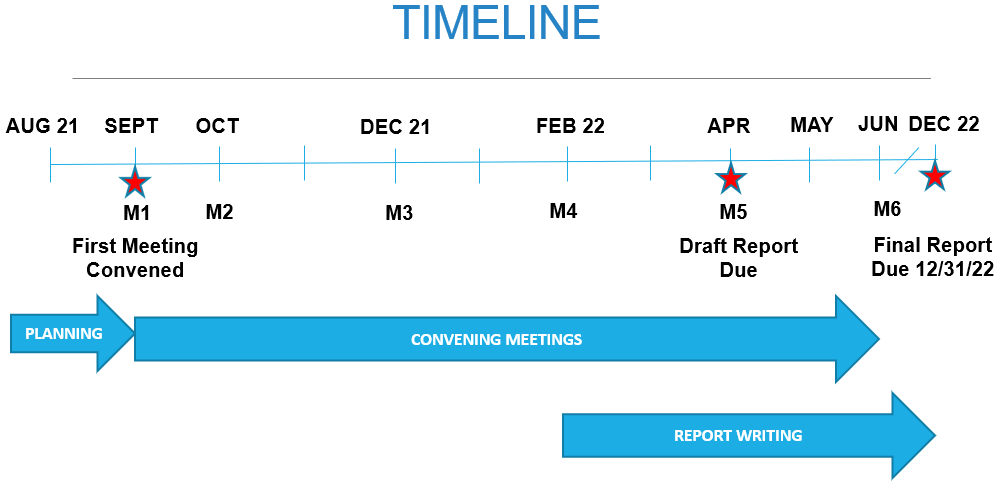 Membership
The 20-member Work Group consists of one representative from each of eight selected State agencies, one representative each from the affected utilities industry and Public Utility Districts, and two representatives each from the Association of Washington Cities, Association of Washington Counties, sovereign tribal governments, and statewide environmental organizations.  Representatives from Bonneville Power Association (BPA) and Department of Defense (DOD) are "ex-officio" members.
Representatives for the Transmission Corridors Work Group
Member org.

Org. type

Designated member(s)

Alternate

Dept. of Commerce
State agency
Glenn Blackmon
Michael Furze
UTC
State agency
Elizabeth O'Connell
Mark Vasconi
Dept. of Ecology
State agency
Brendon McFarland
Diane Butorac
DFW
State agency
Benjamin Blank
Michael Garrity
DNR
State agency
Loren Torgerson
George Geissler
WSDOT
State agency
Ahmer Nizam
Justin Zweifel
Dept. of Arch. & Historic Pres.
State agency
Allyson Brooks
tbd
Military Dept.
State agency
Bernard (Rick) Jackson
Alan Dorow
AWC – Assoc. of WA Cities (2)
Association
Julie Coppock
Clint Whitney
Brandy DeLange
WSAC – WA State Assoc. of Counties (2)
Association
Kevin Shutty
Lindsey Pollock

Paul Jewell
Paul Jewell

Public utility districts (PUDs)
Separate; have assoc.
Nicolas Garcia
tbd
Sovereign tribal governments (2)

Yakama Tribe
Snoqualmie Tribe

Dana Miller
Steven Mullen-Moses
Jeremy Takala
tbd
Affected utility industries (IOU)
Pacificorp, PSE, Avista
Lorna Luebbe (PSE)
tbd
Statewide env. orgs.  (2)
Climate Solutions / Renewable NW
Columbia Riverkeepers
Erin Saylor
Loren Goldberg
BPA - Bonneville Power Admin.
Federal entity
Anders Johnson
Ravi Aggarwal
US Dept. of Defense
Federal entity
Steve Chung
Kim Peacher
Public involvement
Meetings will be live-streamed for the public (meeting links coming soon).  EFSEC welcomes public comment on this process at any time.  Comments can be made after each meeting during the public comment period (limit 2 minutes per person), or emailed to:  transmissioncorridors@rossstrategic.com
Mailing list:
If you would like to be added to the project mailing list, please click to here
NOTE: This link takes you to a UTC mailing list form that will directly add you to the Transmission Corridors Work Group mailing list. Please enter your email address and it will sign you up for this project mailing list.